In 2018, statistics showed that social media has 31% of overall traffic to websites. That's why we can say that social media is the main leader to the traffic online. But, with the hundreds of social media sites available, it's difficult to know where to begin. In the beginning, you may have a lot of confusing questions such as:
Do I need to try to be active on the social media sites I am most comfortable with?
Do I need to try the networks where my targeted users will most likely be on?
Do I need to look at my competitors and follow what they are doing?
The answer is pretty simple. Finding the most effective social media channel for your marketing will depend on what you do, what your business goals are, and what type of content your target audience reacts to. Whatever you do, usually you'll want to start with your ideal customers. Go where they are going, speak their language, and address the issues that they are dealing with.
Let's explain the social media plan that will help you to choose the best social media sites for your business.
1. Determine Who Is Your Ideal Audience – Build The Avatar!
Choosing the right social media network for your marketing will depend on what your purposes are and the most important – who are your users and followers. One of the biggest mistakes that marketers do is trying to appear everywhere, to everyone. The first step of every social media marketing plan is to analyze the audience profiles. That means creating the ideal customer AVATAR.
The avatar needs to consist of information about your targeted users – their age, gender, location, education, interests, and concerns. Once you have defined a clear audience picture, you can create and promote your business profile to appear to any potential client in the group. That's the right way to create a relationship that converts the broad audience into your loyal fans and customers.
2. Where Does Your Audience Spends Time While Online?
There are a lot of companies who are spending time and resources on advertising their brand on a social media platform that their target audience is not actively using. So, it's very important to increase your presence and time on online social media profiles that will help you to connect with the majority of the audience. Your mission is to discover which social media site your target audience uses the most. Maybe your ideal customer will use more than one platforms. By using different platforms, you will be able to focus on your target market from different perspectives and angles.
For the proper audience targeting you can use some of the social media tools available online for you. For example, you can easily achieve a precise audience targeting with Populizr's 'Target Audience Selector' and publish your social content in front of the right audience at the right time.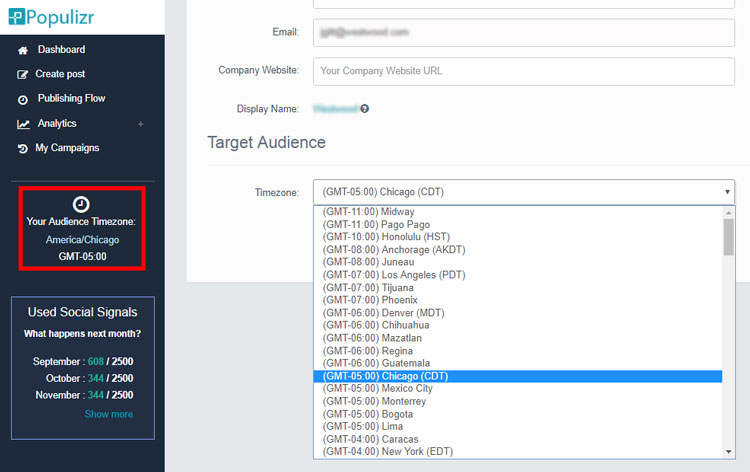 3. Speak Your Audience's Language!
After defining your ideal audience, you need to speak their language in order to build a strong connection with them. Companies that use social media to show that they appreciate and care about their target audience are the ones that get attention and followers because they're creating a unique connection rather than just sell. Choose topics that are entertaining for your market and simply ask genuine questions because you just want to know your audience better.
Put yourself in their shoes. You want to know what your user worries about, what are his/her desires and needs, and discover what he/she likes or dislikes in your product. Pay attention in realizing how your customers represent their interests, wants and worries. Also, try to understand which language these customers use so you can communicate using the same words and terms (slang).
Conclusion
Consider about following important factor: Maybe social media is free but what about your time? Think about the significance and value of your time! So, it's necessary to decide which social media platform will work best for your business. And it's important to know who your users and followers are, their status, needs, and worries. There are countless automated social media platforms, like Populizr that can help you save much of your valuable time, efforts, and money. Use them wisely!