Connecting over 2.1 billion people and 65 million business pages, Facebook has risen as one of the most effective marketing networks available today.
During the last decade, businesses have been using Facebook to connect with customers and promote their brands. But, the numbers above make this 'a bit' challenging.
The fact is that the impact your business can hope to make from Facebook and Facebook followers is powerful. It just depends on your unique approach.
Why Facebook Followers Are Important For Your Business Growth
The primary goal of any kind of marketing is to drive more value to the business with less investment. And your Facebook followers' likes, shares, and virality allow you just that.
Focusing on increasing Facebook followers and engagement can help you monetize your marketing. How?
Facebook allows you to advertise your brand to a targeted audience. Instead of wasting time and money on Facebook followers that are not at all interested in your business, Facebook gives you the opportunity to target the right audience.
Many businesses report that the greatest benefit of Facebook followers is the extra traffic that it steers to their site. Visitors who come to the website can be exposed to stronger marketing messages and, often, lead generation.
But, the best thing in this scenario is that customers who come to your website from Facebook are likely to be more receptive than the average visitor. They are already familiar with your business and were motivated to click the website link.
This contributes to the fact that Facebook allows you to increase your credibility and promote your brand by building long-term relationships with your Facebook followers.
The most difficult thing for the largest number of businesses is to get to this part. To get your desired number of Facebook followers.
So, if you want to learn a few tips, keep on reading.
Our Tips For Gaining More Facebook Followers & Improving Engagement To Your Facebook Page
To answer this million dollar question we did a little research and based on our experience, we offer the following tips as the most effective:
1. Keeping an Eye on Your Competition
Keeping a close eye on your competition will help you learn what their goals and strategies are. Once you are following and assessing your competitor's strategies, you can learn from them or even implement and recreate them for your own campaigns.
So, as you already have a targeted audience on your competitor's page, you can reach out to and engage with them.
Engaging in your competitor's successful posts can bring their Facebook followers to your Facebook page as you show your expert knowledge or your caring customer service.
2. Create Trending & Engaging Content
Creating trending and emotionally engaging content is what you are looking to do. You need to make your content interesting enough to maintain their attention. And also make sure that you show them you empathize with them.
To do that share relevant blogs, photos, videos, infographics, memes, funny videos, and relatable quotes. Visuals are always the right way to go since 90% of the information our brain perceives is visual.
If you're trying to gain more followers, engage and keep them, you might want to make sure your content stands out in feeds.
3. Add Your Social Media Links to Your Website
When sharing content on your Facebook page, make sure you link to your website to get more traffic.
Add your Facebook page plugin-like button on your website. Depending on your theme, your social icons might be in the header, footer, or in a sidebar menu. Reference your Facebook page on your blog. Draw attention to an interesting discussion happening on your Facebook page by mentioning it in a blog post.
This will associate your website with your business Facebook page. It's a good way to grow your traffic organically and gain more Facebook followers.
4. Focus on Quality Over Quantity
The common misconception for the success on your Facebook page is that the more content you put out the better results you will get. In fact, it is totally the opposite. It has been proven that sharing only your most original and most valuable content will generate your desired number of Facebook followers. And only your truly valuable posts will create a buzz and generate engagement with and between your audience.
Have quality rule over quantity since even one successful post will bring in more traffic to the right place, than creating hundreds of spineless posts.
5. Hashtags, Why and Where?
While hashtags make most people think about Twitter or Instagram, you can also increase Facebook followers. You can use literal hashtagging to connect with your audience through your chosen topic or create an audience focused hashtag connected with your brand.
Hashtagging where it's truly relevant will widen your reach and increase Facebook followers and engagement.
6. Share Your Facebook Page Offline
People assume that chasing Facebook followers must always be online. But no. Share your Facebook page on all of your marketing materials such as business cards, leaflets or your printed adds. This will increase the exposure and widen the reach of your brand. Also, it will increase your brand awareness and broaden your Facebook followers and engagement.
7. Get Tagged by Other Facebook Pages
Getting organic shoutouts from bigger Facebook pages can help you get more Facebook followers and of course, much more engagement.
To get a 'shout out' you need brands who regularly feature other brands on social media.
Of course, you need to choose a brand that has a similar or somewhat related audience to yours.
So, let's say, if you sell face cream it would be nice if you get tagged in pictures with another brand's shampoo. You can do this by tagging them first, or reaching out directly to them and negotiate a collaboration.
8. Learn from Facebook Insights
Analyzing your Facebook page insights can give you a clear view of who your current fans are. It allows you to identify the kinds of posts that have the highest average reach and engagement, and also learn from your mistakes.
This will, of course, help you to better target your future Facebook efforts and as such increase your Facebook followers and engagement.
9. Run Facebook Ads
Giving your ideal audience the best content is definitely a way to boost Facebook engagement. Facebook ads do exactly that. Facebook offers very detailed ad targeting.
Facebooks ads can help boost post and create new ad campaigns.
By boosting a post, you can extend your audience beyond your current Facebook followers. This can be a great option for a post that's already proved to be compelling by bringing in a large number of Facebook likes from your current Facebook followers.
10. Partner with an Influencer
If you want to get Facebook followers and engagement then a partnership with an influencer is something that never disappoints.
The easiest way to get to an influencer is by directly contacting them through their social media profiles. You could send them a sample product for them to model. When they share the post on Facebook, ask them to tag your Facebook page in the post. That way people who are interested in your product will be more likely to follow you.
If you are a smaller business and you are not there yet, you can also turn to niche-specific fan pages. In almost every industry there are pages that just share cool products or cool articles. They're all over Facebook and usually have a vast number of Facebook followers. They're cheaper than an influencer and they always work.
11. Use Automation Tool
Social media automation tools can help you get Facebook followers, fast.
The truth is that if you never post on Facebook you're likely not going to increase Facebook followers and especially engagement.
It is also true that not always businesses have the time to run their social media profiles actively. And often things like posting on Facebook fall by the wayside.
Using an automation tool to set up a series of posts over the next several days in advance would certainly be a release.
You can add product pictures to your post, a GIF, a funny video, etc. This way creating content that attracts Facebook followers and engagement while you can freely work on other important things for your business.
One such social media automation tool is Populizr.
Increase Facebook Followers With Populizr Social Media Automation Tool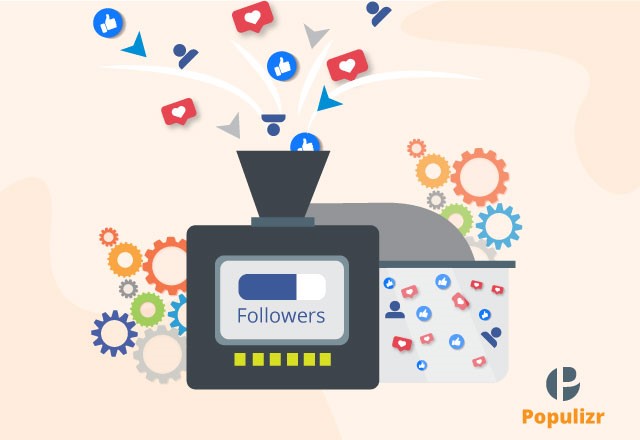 Populizr is a social media automation tool that can help you ease the burden of gathering Facebook followers and engagement.
The thing that makes this tool stand out from the crowd of social media automation tools is its ability to generate up to 5 unique variations with unique titles, meta descriptions, and images. Later these 5 variations will be combined with each other and turn into 25 unique social media messages ready for sharing on all of your social networks.
On top of that, Populizr measures emotion and sentiments of each variation of the post, showing you in percentages how a certain title or a meta description will make your Facebook followers feel.
With Populizr you can schedule campaigns a year in advance and all of that in only a few minutes. It also gives you analytics of the success of your campaigns. This way you can track audience engagement and campaign performance. Those campaigns which are most successful you can use again to gain an even bigger audience.
All of these features enable businesses to increase engagement and gain a large number of Facebook followers, and not only Facebook. The tool enables you to manage your content on the 4 major networking sites:
Facebook
Twitter
LinkedIn
Pinterest
If you want to find out more about Populizr and how it can help you manage your social accounts read the following blog post with more details about this unique social media automation tool.
To Sum Up
Currently, Facebook has the largest number of users in comparison to other social media networks. And if you are one of the 65 million business pages on Facebook, then you most certainly are aware of the benefits it can bring to your business.
Getting closer to your customers, gaining the trust of your new target audience, maintaining it, and turning it into conversions are among the major benefits. But, you also know that achieving all of this is definitely not an easy job. It requires a lot of effort and money.
Unless you follow the 11 tips we provided in this blog post.
They can ease your job in trying to get more Facebook followers and engagement.
If you have any other tips that you can add to this list or if you have already tried some of them, please feel free to leave a comment in the comment section below. And if you have any questions we can help you with, do not hesitate to contact us.