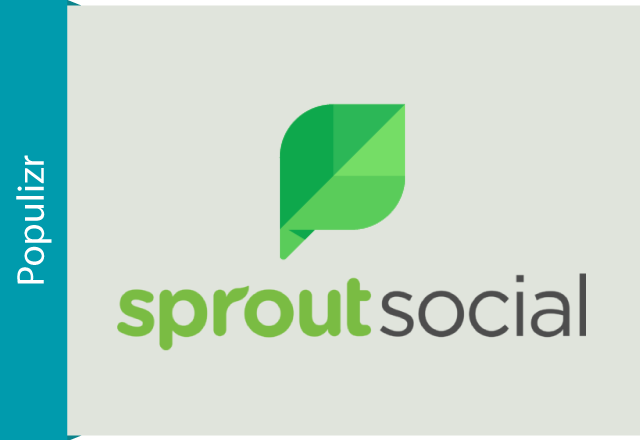 *We update the comparison texts often. But since there are many changes concerning the prices and features of these applications, there may be some inconsistencies. Please don't judge us if you catch some. We're working really hard to update them on time.
Introduction
Sprout Social is a social media management software that provides engagement, publishing, analytics, and team collaboration tools. But what does this mean? Is this platform the right fit for you? Read the main pros and cons to see if Sprout Social can meet your needs.
Sprout Social FEATURES
Publishing, conversation and advanced reporting are Sprout Social's key features. The features grouped in six tabs are what I will explain better throughout this article:
Messages
Tasks
Feeds
Publishing
Discovery and
Reporting
1. Social connectivity

Connectivity is not the greatest Sprout feature. It only connects with:
Twitter
Facebook
LinkedIn
Instagram

Google +

Feedly
Feedly helps you to track keywords on a different topic.
You can also follow blogs, read the news or other content and share them on your social media profiles.
I must be honest and highlight that this software links with the most used social networking sites, and it has nice RSS feed integration. However, everything depends on your intentions, ambitions, and goals for using a social media dashboard.
2. Scheduling
Sprout Social only supports scheduling message out up to 6 months ahead, say, from December 2015 till June 2016. This is a decision in order to encourage more personal engagement across social media platforms.
3. Sprout Social Calendar
The new publishing calendar brings efficiency and consistency to your team's publishing efforts. You can easily view and manage a full week's worth of social posts across multiple profiles and networks all in one place.
When you schedule a post you can select multiple days, but only once per day for a post ( as you can see in the screenshot below). You can send your update to the social profile you prefer as many times as you wish. Sprout Social don't impose particular time slots. Whereas, some networks may rate limit you if they see you pushing out the same content over and over.
Just keep note that it has anti-spamming filters, so if you have heavy posting. That may trigger anti-spamming filters and cause messages to fail.
As you can notice in this screenshot, it allows you to resend a sent message.
In Settings – Sprout queue you will find the ViralPost feature. That means you don't need to set the time for manual publishing anymore.
ViralPost works for you by taking the guesswork out of delivery times. This data-centric solution analyzes your audience's usage and engagement patterns, content velocity, and other factors to determine the optimal times to deliver content. You can choose to post the same content maximum ten times a day for each social media profile.
With Sprout Scheduler, you can save time, money and waste of energy. You just need to do your schedule, and it will do the rest for you. The only limit is that you can plan only six months ahead after you start using it. You can repost your update as many times you want (but only one post per day) and have the optimal engagement time. It is maximum ten posting times determined with a starting and ending period.
3. Conversation
Conversation feature is an excellent tool to connect with your audience and to boost their engagement. With the Smart Inbox you can search brand keywords, say, #social media marketing. When the tweets appear, you are free to retweet, comment, reply, like, save or email the message or translate to EN-US. Which means, you have many possibilities for online communication.
If you want to find out who follows you, who you have a conversation with and who mentioned you, click on the fifth tab, Discovery.
Smart Search suggests you how to find new people to follow and gives you new ideas for exploring. You can search either individuals or keywords:
Keyword Search
Search for keywords or phrases that your customers would be talking about.
People Search
Search for keywords that may be found in the profile of a potential client.
Conversation feature strengthens your relations with the audience and helps you reach the potential clients.
4. Monitoring
Monitor Activity Across Multiple Social Channels
It's Smart Inbox brings all your social messages into a single, unified stream.You can also track keywords and campaigns. That means many opportunities by setting up queries for keywords and hashtags related to your brand and has the results delivered right to your Smart Inbox.
5. Analytics
It measures performance and analyzes all your social efforts. It supplies several types of reports.
Group Report
Use this at-a-glance report to gain insight on the overall health of your profiles.
Engagement Report
Dig into how well your company is engaging with Fans and Followers.
Team Report
Gather insights about your team's performance on social media.
Twitter Profiles Report
Track how well you communicate with the audience to determine Twitter performance.
Trends Report
Gain insight into what is others say about your brand and who is saying it.
Twitter Comparison Report
Keep tabs on your performance compared to competitors or other company profiles.
Google Analytics Report
View website traffic from a social lens for deeper insight on messages that drive acquisition.
Instagram profiles Report
Determine the success of your content and make informed strategic decisions.
Sent Messages Report
See how every message performed so you can gain insight from your great (and not so great) content.
Customise branding
Customize reports are a useful tool if you're an agency managing accounts for your clients.
It makes in-depth analysis for Facebook, Twitter, and Instagram (except for LinkedIn) and it integrates with Google Analytics. So with this advanced reporting, you will know what is the key to your success.
6. Additional integration
Sprout Social has an additional integration. Nevertheless, it doesn't offer lots of opportunities, nor connection with so many popular apps.
Browser extension
With its Browser extension, you can boost your reach by sharing anything you want with only one click.
Platform integration
With Sprout Premium, you get only two apps: Zendesk and UserVoice. They may be useful, but not enough for outstanding social media marketing.
Zendesk is a customer service platform. Designed for companies that want to create customer relationships that are more meaningful, personal and productive.
UserVoice is a software-as-a-service provider of product management and customer support tools that include:
Feedback forums and in-app widgets to capture the ideas users care about most.
Reporting and analytics to aggregate and prioritize product ideas for your roadmap.
A support ticket system to track and respond to customer support requests.
A knowledge base to answer common questions and help users find the information they need when they need it.
As Sprout support team explains, when apps choose to open up access, they will look deeper into a possible integration in depending on the data they have received. In fact, Sprout Social staff would love to add some reporting features to this dashboard when possible.
Sprout Social PRICING
This screenshot is an insight into Sprout Social pricing plans. All plans include 30-day free trial without contract or credit card.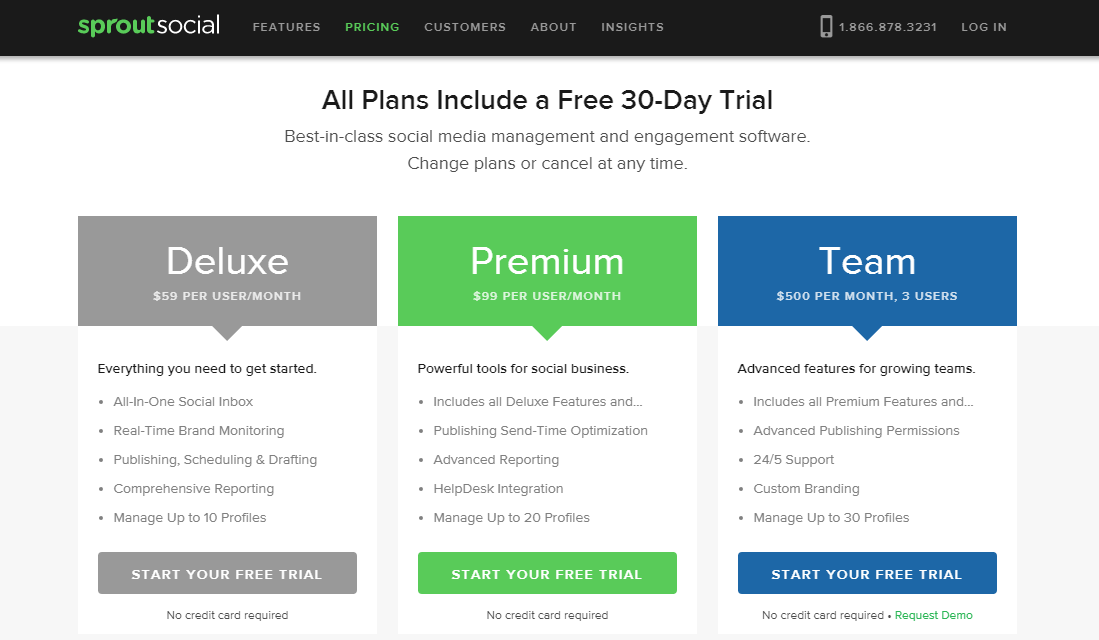 Standard plan will cost you $99/mo, and it includes everything you need to get started.
All-in-one Social inbox
Real-Time Brand Monitoring
Publishing, Scheduling, and Drafting
Comprehensive Reporting
Manage 5 social profiles
Profesional plan is $149 per user/ mo and it's a powerful tool for social business. This plan includes all Deluxe features, plus:
Publishing Send-Time Optimization
Advanced Reporting
Helpdesk Integration
Manage 10 social profiles
If you need advanced features for growing teams, you can register at Advanced plan. It costs $249 /mo for 10 social profiles. It includes all Premium features and:
Advanced Publishing Permissions
24/5 Support
Custom Branding
Sprout Social PROS 
Scheduling
Sprout Scheduler has many advantages but limits too. Scheduling keeps you relaxed because you are focused on what actually matters to your business, and it helps you avoid the buzz.
Sprout Calendar is excellent for sending out messages on the days you want and in the best time possible. Another feature is reposting the content either in the compose box with setting different times for each day ( but only one post per day) or in Reports- Sent Messages- Send Message again.
You can use ViralPost to find out the optimal engagement time for your posts. You can choose up to 10 times reposting your update. Also, you need to set the intervals, the starting and the ending period for the weekdays and weekends.
Conversation
As I mentioned earlier, Conversation is a solid feature that enables you to grow your business and has outstanding social media marketing. You can reply, retweet, comment, like, email the message, etc. directly from the Sprout dashboard.
Analytics
In general, Sprout Social has profound Analytics. You are not required to pay extra money to get points. It offers around ten reports for a reasonable price, detailed insight into your social media activity. Moreover, it shows you the effects of your social media campaign.
Sprout Social CONS 
Connectivity
Social linking is Sprout's downside because it connects only with 5 social media networks and two apps. Even though it connects with the most popular social networking sites nowadays such as Facebook, Twitter, LinkedIn, Instagram, and Google +, still is not enough for bold online presence. Pinterest and Youtube, as well as the blogging platforms ( Blogger, WordPress, Tumblr), are necessary for appealing social media marketing.
Scheduling
You need to be aware that Sprout Scheduler allows you to schedule only six months ahead. Take into consideration this fact: You can choose to schedule a post for multiple days, but only once per day for a post. That is pretty much different from Buffer Pro, which lets you select different time slots (scheduling list) for every day.
Analytics
The only limit considering the Analytics is that this platform doesn't offer Analytics for LinkedIn.
Platform integration
Sprout Helpdesk integration has only two apps available: Zendesk and UserVoice, unlike Hootsuite 150 apps. Almost every single day people invent new apps, and this limit of 2 apps is somehow illogical. Sprout team explains that they are not well equipped for the photo layout/format or for posting high-res images to services, but they'd love to add some reporting features to this platform when possible when apps choose to open up access for potential integration with this software.
SUMMARY
If you are looking for a complete social media platform, Sprout Social still needs to develop some vital features, say, scheduling for more than six months ahead and connection with more than five social networking sites (say Youtube, Pinterest, and blogging platforms).