Don't Have Enough Time To Post On Every Social Media Profile That You Own?
You don't have to do the whole process of managing multiple social media accounts manually. Today, we have a lot of tools that are specifically created to help us with the management of multiple accounts on social media. Thankfully to that, we don't need to manage each account individually.
Here are a few of the best tools for managing social media accounts:
1. HootSuite
HootSuite provides management of the social media accounts from one place where you can also monitor the analytics from all accounts.
Populizr is a useful tool for managing multiple accounts. It also provides campaign's creation and scheduling and tracking the analytics on social media accounts through a single dashboard.
3. Buffer
Buffer is a very similar tool as Populizr and HootSuite because the provide full access from one place where you can manage everything.
4. Sprout Social
Sprout Social, besides providing management from one location, it provides excellent visualization of the analytics.
5. SumAll
SumAll retrieves all data and insights from your social media accounts and puts them in one place where you can easily overview the whole process.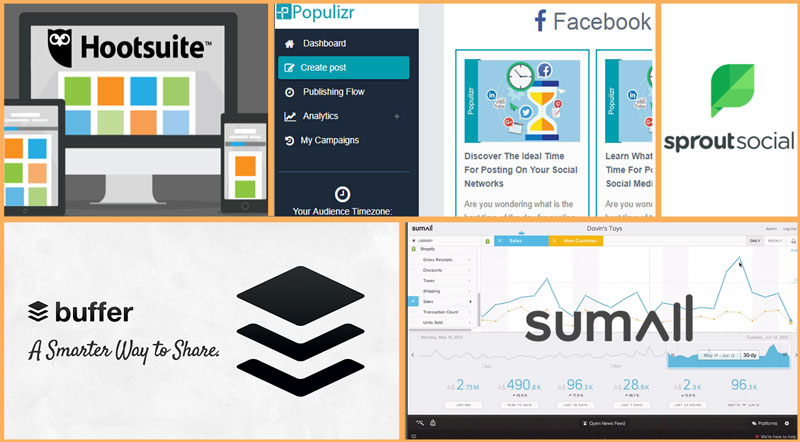 Now, after we introduced you to a few of the best tools for managing multiple accounts, we will show you the best strategy to implement when using some of the tools above.
These are the steps you need to follow for managing your multiple social media accounts:
Put All Social Media Profiles On A Single Dashboard
This step is important because you need to be able to access every profile with a single click. Тhat's why it's necessary to put every social media profile that you manage on one dashboard, and by doing this, you will save a lot of time.
Schedule The Posting Time
By implementing this step in the strategy, you will save a lot of time because you can plan the timing when you want to post your content. This step is also helpful for maintaining a constant schedule for posting your content that will be appreciated by your customers.
Keep Track With The People That Engage With Your Posts
It's important for you to engage with your current and future clients in order to form permanent and beneficial relationships with them. You can do this by replying to their comments and do various interactions with them so that they won't feel ignored.
Group Your Audience By Social Network
If you follow a lot of people on each social network, then we can say with certainty that you won't be able to keep up with everything. The solution for this is to group your audience depending on which social network they are. That is how you will be able to keep up with them.
Analytics Overview Of Your Social Media Profiles
It's important to keep tabs with everything that is going on with your social media accounts. By analyzing the data that you possess, you can create even more successful campaigns and move ahead.
With automation, you can set up a system that can do all of your work without you being there. So, basically, every task that you need to do can be done by the automation.
| | |
| --- | --- |
| | Can You See Now That Managing Multiple Social Media Accounts Is Not That Difficult? |
We live in that period where technology makes a lot of things easier and simpler for us. One of those things is the management of multiple social media accounts. Thanks to automation, we don't have to manage all of our social media profiles manually. Follow our steps explained in this post and make your life easier.