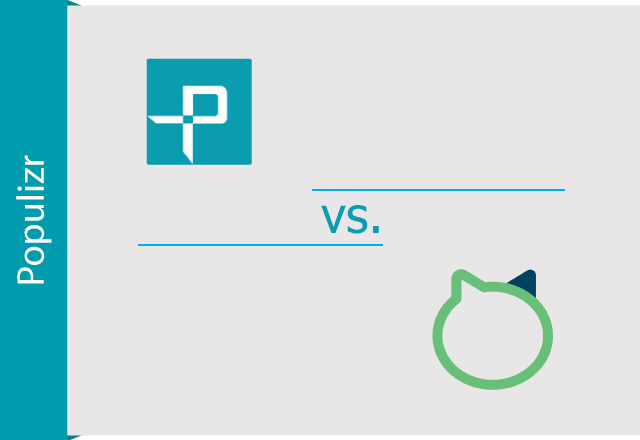 Loomly is a social media calendar that helps you easily and efficiently manage your social media content and social media marketing team. You might know Loomly by its former name Calendy also.
With Loomly you can create and schedule content for Facebook, Instagram, Twitter, Pinterest, Google+, and LinkedIn. Loomly boasts with an intuitive interface and innovative features that will make your life much easier but is it really as good as it claims to be? Will this app finally be the right one for your social media automation needs?
We will review the app's features, pricing plans and draw a conclusion accordingly. In the end, we will offer a short comparison with Populizr – another publishing automation tool for social media which allows people to manage their social media accounts from one dashboard (you can read more about Populizr's functionality here).
Let's start!
Creating An Account
Before you create an account with Loomly, you need to choose which pricing plan to use and the posting frequency (monthly or yearly). If you decide to use a yearly posting frequency, you will get a 20% discount from the start.
Loomly offers 5 pricing plans:
Solo
Solo pricing plan costs $15 per month or $144 per year.

Only 1 user can get access to the tool.

The user can manage up to 10 social accounts.
Pro
Pro pricing plan costs $45 per month or $432 per a year.

Only 5 users can get access to this tool.

The user can manage up to 15 social accounts.
Small Team
Small team pricing plan costs $90 per month or $864 per year.

Only 10 users can get access to the tool.

The user can manage up to 30 social accounts.
Medium Team
Medium team pricing plan costs $160 per month or $1536 per year.

Only 15 users can get access to the tool.

The user can manage up to 50 social accounts.
Large Team
Large team price costs $400 per month or $3840 per year.

Only 40 users can get access to this tool.

The user can manage up to 140 social accounts.
With all 5 Loomly pricing plans you get:
Unlimited calendar templates
Automated publishing
Unlimited file uploads
Unlimited calendars
Advanced analytics (except with the Solo plan)
Audience targeting
Approval workflow
Unlimited posts
Basic analytics
Content export (except with the Solo plan)
Live analysis
Post review
Post ideas
Training
Support
Loomly gives you 15 days free trial before purchasing any of the plans.
Loomly Features
1. Scheduling Posts
Once you created an account, confirmed your email, and logged in, you can start scheduling posts.
But to schedule a post, you need to create a calendar first.
Follow this step by step guide to learn how to schedule posts:
Go to your dashboard, and click Create a calendar.
In the Calendar settings, provide your name, time zone, business industry, and upload your business logo. Then, click Update calendar.
Once you created the calendar, click Publish a post.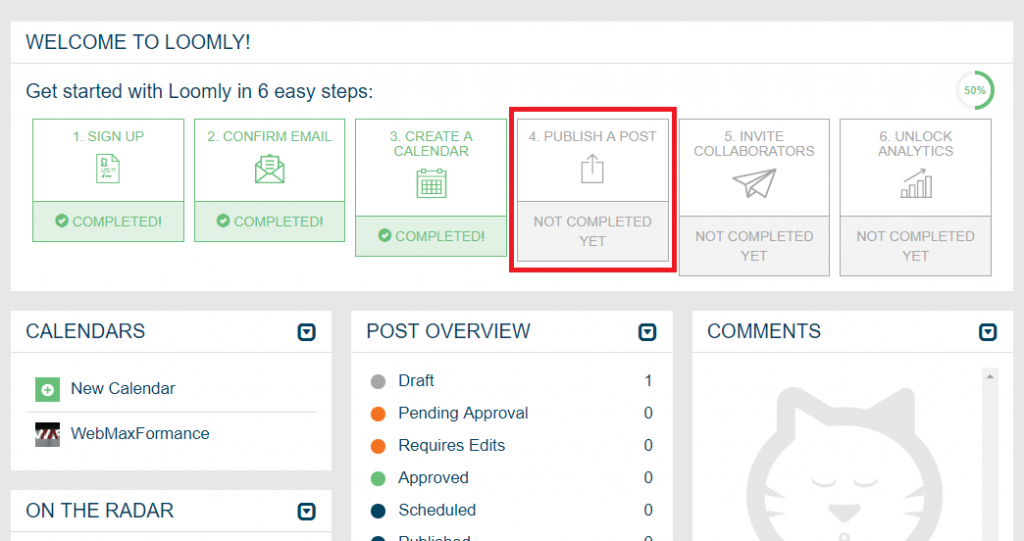 Now, you are in the Set post details feed, and you are required to set the posting time and provide subject and tags. When you complete this info, click Continue.
In the next step, select the social networks you want to share your post on. Loomly shares on following social channels:
Instagram,
Facebook,
Pinterest,
Google+,
LinkedIn, and
Twitter.
When you pick the desired networks, click the Continue button.
In the Define generic content field, provide your message. You can also give an URL link and shorten it by clicking Shorten URLs button. Next, add an image and a video by uploading them from your computer, or simply browsing your library or importing from URL.
Once you are done, click Continue.
The next step lets you preview your post. If needed, you can tweak a thing or two to make it just the way you like it. You can also remove the link preview if you decide you don't need it.
At the bottom of the page, you can see comments for the post you are about to schedule. Now is the time to make some improvements to your text if needed, and once you think your post is ready for scheduling, click Continue.
In this step, Loomly aks you to choose a target audience. In the Preferred audience field, pick the audience age, gender, interests, relationship status, education status, and location.
You can also choose the minimum age of people who can see your post in the Audience restrictions field.
Lastly, you can promote the post, but before you do that you should connect it to an Ads account.
Final step gives you 3 options to choose from: update, schedule or publish now.
You can see in your calendar all your scheduled and published posts, as well as posts waiting for approval to be published. There are two ways to see the posts: list view and calendar view.
The List view provides all the info about when and where your posts were published. You can see the subject, the copy, the format, the image, and the actions connected to the posts.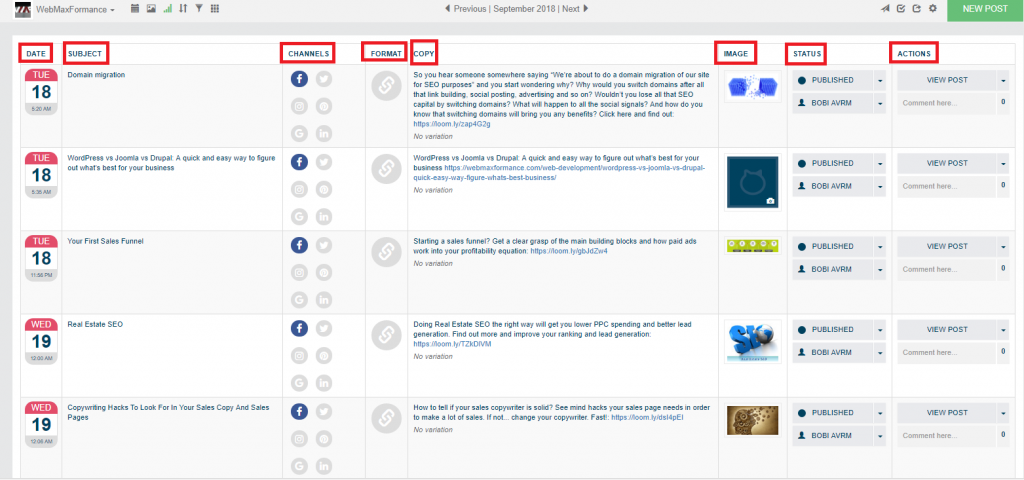 While in the Calendar view, you can only see the day and the time of posting as well as the social networks your posts are on.
2. Analytics
Loomly enables you to track the analytics of social media campaigns by a social network, and it measures the following metrics:
Instagram (likes and comments)
Facebook (shares, reactions, and comments)
Pinterest (saves, comments, and likes)
Google+ (shares, comments, and "+1″s)
LinkedIn (comments and likes)
Twitter (retweets and likes)
Let's see how Loomly analytics look like for Facebook.
In the Account preview, Loomly shows you:
Published posts
Total likes
New likes
Unlikes
Engaged people
Total Reach
Organic
Paid Reach
Impressions
Video views
Then it lists the top 3 posts with higher engagement, reach, and shares, as well as the worst 3 performing posts regarding the same metrics.

Loomly also provides post metrics such as reach, engaged users, engagement rate, likes, comments, shares, clicks, and video views, as well as the total and the average numbers of these metrics. This info is very useful when it comes to social media marketing.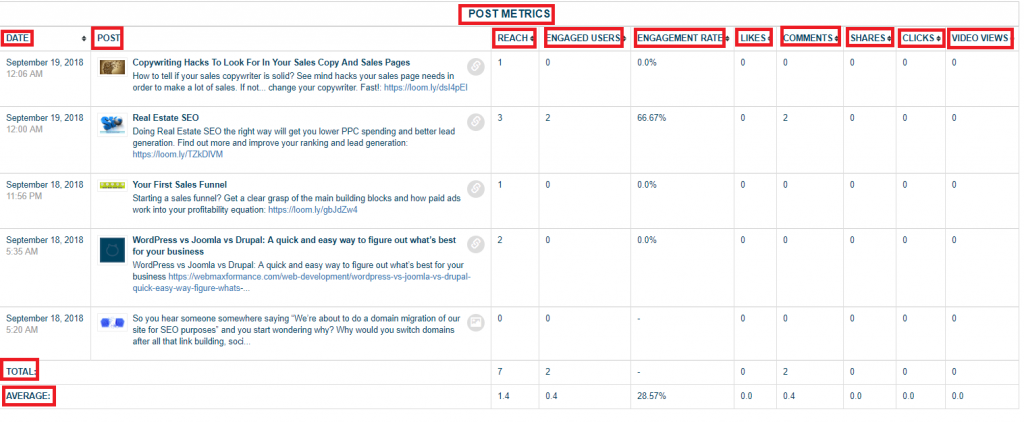 Loomly Pros And Cons: Comparison With Populizr
Loomly is a social media tool that helps in organizing your social media work in one place. But, is Loomly the right social media management tool for you?
Here's a comparison between Loomly and Populizr to help you decide which one will suit your needs better:
| | | |
| --- | --- | --- |
| Features | Loomly | Populizr |
| Multi-account management | ⇃ | ⇃ |
| Multi-user collaboration | ⇃ | x |
| Content management | ⇃ | ⇃ |
| Automated publishing | ⇃ | ⇃ |
| Post scheduling | ⇃ | ⇃ |
| Analytics | ⇃ | ⇃ |
| Sentiment and emotion analysis | x | ⇃ |
| Creating unique campaign variations | x | ⇃ |
| Reusing best performing campaigns | x | ⇃ |
| Demographics | x | ⇃ |
| Targeting an audience | ⇃ | ⇃ |
As you can see from the table, Populizr doesn't offer collaboration among users. But it offers much more than Loomly when it comes to effective social media management and marketing. This is where Populizr's unique features come in extremely handy:
Creating unique campaign variations – Marketers know how important it is to create social media campaigns. It is the best way to promote your business. However, sharing the same content over and over again on social platforms makes it duplicate content. With Populizr you can create up to 25 unique variations of one single blog post, with a unique title, meta description, and images. In other words, it helps you avoid duplicate content, whereas Loomly doesn't have anything even remotely similar. It doesn't focus on effective social media marketing.
Reusing best performing campaigns – With Populizr you can revive and reuse the best performing social media campaigns. With just a few clicks, you can share old campaigns to attract a new audience.
Sentiment and emotion analysis – With built-in Sentiment and Emotion Analyzer Populizr measures how effective your content is. So, it makes sure your campaigns trigger the right emotional response even before launching them.
Demographics – Populizr not only gives you an insight into the number of clicks per social post, but it also tells you which country and city they come from.
To sum up, Loomly is the perfect tool for you if you only look for easier post management. But, if you need a tool that will help you easily manage your social posts, and at the same time contribute to an effective social media marketing, then Populizr is the right choice.
Hopefully, this post will help you decide which of these two tools is the right one for you. Now it's up to you to decide.