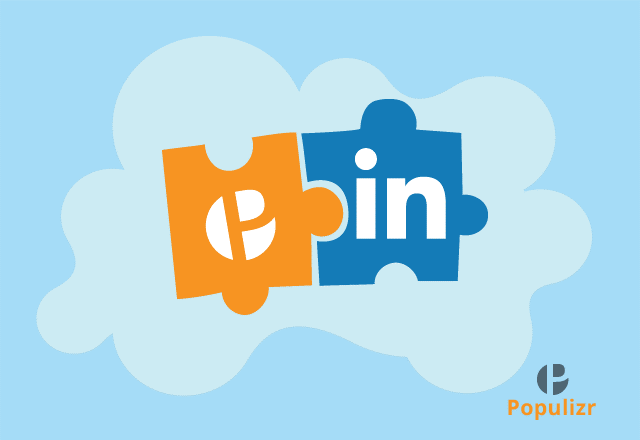 There are more than 610 million users on LinkedIn.
Engaging with your target audience can be fairly easy if you use the proper social media scheduling tool.
There are perhaps hundreds of social scheduling tools that can help, but picking the right one can be a hassle.
Hopefully, you'd take a look at how Populizr can help.
But, before jumping right into the benefits of using a social media scheduling tool like Populizr, let's first revise why LinkedIn is the best option for your brand.
Use LinkedIn To Build Brand Awareness Much Easier
There are many benefits of using LinkedIn as part of your online marketing strategy, but perhaps the most important ones are the following:
The constant growth of users: At the moment, LinkedIn has around half a billion registered users. And because of the strong business focus of the network, more people sign up on LinkedIn every day.
Higher professionalism: Professional behavior on LinkedIn is the norm. It's not your typical social network where random people join and post random pics of cats or alike. It is business oriented where you present yourself as a professional in your field.
Professional relationship building network: Linkedin, as a go-to social network for professionals, is very effective for brand awareness. If you regularly post valuable updates on your personal Linkedin and your company's Linkedin Page, you have a very good chance of connecting with potential clients, suppliers, colleagues, and competitors.
Let me just say that these are only a handful of benefits for business that use LinkedIn regularly. And brands who are serious about their success already know these benefits, and regularly use LinkedIn.
But being active on Linkedin is a chore. Logging in every day, writing up new updates, pointing people to your website… it's a lot of work.
Thankfully, there are social scheduling tools that help out. And, Populizr goes the extra mile in not only scheduling but helping you create these unique social updates too.
Easier LinkedIn Marketing With Populizr
Populizr is a social media scheduling tool that can help your brand get closer to your audience on LinkedIn.
And here is how:
Schedule Unique Posts For Faster And Better Results
Populizr's scheduling feature can help you build up your LinkedIn community in two ways:
Scheduling posts in advance has become a necessity, not an option
Scheduling unique posts to stand out from the average content on LinkedIn
Yes, LinkedIn is important for maintaining the professional appearance of your company on social media.
While you can (and should) maintain an active presence on other networks like Facebook, Twitter, Pinterest, etc. Linkedin remains the go-to social network for businesses.
But, posting valuable content on all these networks is a tedious task, and using social scheduling tools only creates duplicate content. So, instead of putting your best foot forward on Social, you end up coming across as a spammer company.
Not good.
But more on this later.
This is the reason why scheduling unique posts in advance with a good social media scheduling tool can be the solution your brand needs. Creating this social posting schedule ahead of time brings many benefits like:
Not forgetting to share your posts,
Posting at the right time to reach your desired audience and
Posting unique social updates, etc.
This way you will also build consistency your followers will notice and appreciate.
Our second point, scheduling unique posts to stand out from the average content on LinkedIn, can often be pretty challenging. Because creating unique content these days is just that.
Let me point out that there are roughly 5.8 million new blog posts published online every day. That's a lot of content out there!
So, creating something unique and valuable that will leave a good impression on your audience is definitely a difficult task. Your brand followers won't enjoy seeing one update after another, and yet they're the same old title, same text, same image.
It is practices like these that make people Unfollow brands on social media sites like Linkedin, Facebook, Twitter, etc.
That's why Populizr makes it all of this easier for you.
How does this social media scheduling tool enable you to share unique content on LinkedIn each day?
Well, Populizr has an elegant and effective trick up its sleeve.
Simply by providing you with variations of a different title, meta description, and image for every one of your blog posts.
Whenever you want to share a blog post you've just published on your website, Populizr pulls the title, meta description, and images on the blog post, and builds variants.
If you wish, you can build up to 5 titles "variations", 5 meta description variations, and you can select up to 5 images from your blog post.
Then, Populizr will shuffle these building blocks, and create 25 unique social posts that all point to the same blog post. All this, in just a few minutes.
Also, another cool helper is that you can measure the Sentiment and Emotions in each of the title and description variations. You can tweak the language, so you'd make sure that each social post will hit the right emotional buttons of your audience, and nudge them toward clicking that link, and visit your website.
You can modify the variations according to your brand's needs and once you are done with that you can continue with publishing.
No other tool on the market offers a feature like this, and this is why it's extremely helpful and practical to do your Linkedin marketing with Populizr.
Post Content When Your Audience Is Active The Most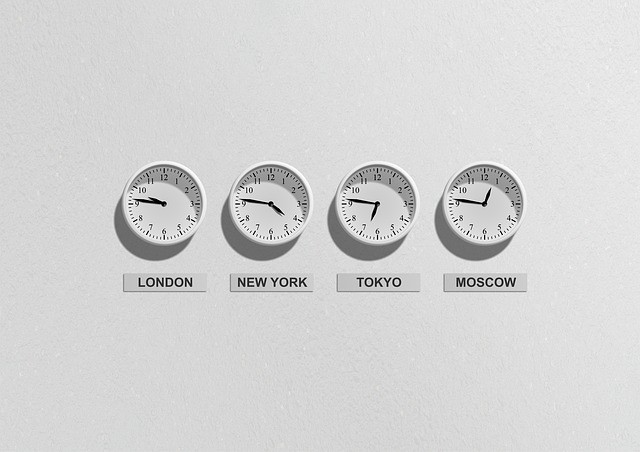 This one is really not rocket science, even though there are brands that underestimate the effect of this rule.
Even the best content out there won't get much traction if you don't give it a Social nudge.
And if you do this nudging when your target audience is sound asleep, you're just wasting your energy.
Your brand should post content relevant to your industry in the time frame when your audience is most active.
Some social scheduling tools use Timezones, some give you a timeframe to post, others will ask you to select the exact time and date for each social update. And instead of making a social campaign a breeze, people end up spending hours on mapping out each campaign.
Not so with Populizr.
With Populizr, you have the Audience Timezone on a set-and-forget mode. Also, the time-window is a set-and-forget deal. So when Populizr is building the publishing schedule, it's doing this in the background, at random intervals.
But if you prefer to have full control over when things get posted, you can still edit the timestamp of each social post. But only IF you want this granular control.
So you can be on a beach in Bali, taking only a few minutes to build your social campaign for your company, and the social updates will be posted using your Audience Timezone.
All that with one social media scheduling tool.
This is an important topic, so to find out more, feel free to hop over to another blog post we've published: LinkedIn Marketing Stats: What And When To Post, And How To Improve
Reuse Your Top-Performing Organic Posts Into Successful Sponsored Posts
Not all unique social posts will perform the same. And of course, you'll want an easy way to find out which social post got the most traction, and hopefully reuse it.
You won't have that problem on LinkedIn with Populizr.
With Populizr, you can easily discover which one of your organic posts are getting the most attention from your audience and turn that post in a sponsored post.
This way, you can reach an even bigger audience on LinkedIn and get in touch with users that are not necessarily connected with your brand.
This is also a great way to first test the messaging with organic posts, and then boost the best-performing social update with a Paid Advertising Campaign.
Stick To On-Site Engagement
Most of the times, we judge deals by the Features list. But sometimes, the value of a tool is also in what it does NOT offer.
For example, if you're looking for a Formula 1 car, you'll expect that the specs sheet doesn't contain items like Spare Tire, First Aid Kit, Massage Seats etc. That's dead weight to you, and it will only slow you down.
Sometimes, less is really more.
And one of the things Populizr does not do is keeping you stuck inside the Dashboard and responding to various social comments from a distance.
Think about it. There's a good reason why politicians do road trips and visit people where they are. There's a psychological element of being right there, where your audience is. It affects your posture, your language, your tact… Everything.
And Populizr is helping you not be too detached from your audience. Because nobody trusts a politician that's locked up, completely detached from their constituents.
For example, if someone comments on your LinkedIn post, you're better off going directly on LinkedIn and have a conversation there.
You'll think about the conversation differently and will choose words wisely when you are directly on LinkedIn instead of via a third-party app.
Sometimes, social automation tools go a bit too far in keeping people off of social networks and unknowingly distance themselves a bit too much from the ever-more important audience.
This social media scheduling tool is designed to support the idea for easier managing of social media profiles, without sacrificing direct communication.
Here's another example. When you go to a fine restaurant, you act in accordance to the place.
The look and feel of the restaurant will affect how you behave, how you speak, and what you speak.
It's the same with profiles on social media.
Even if it's the exact same social update word-for-word posted on Linkedin and Facebook, how you respond to your audience's comments will differ. Facebook will be more casual. Linkedin, more restrained, formal, dignified.
So by keeping it real and going to each social network, you make sure you don't make the blunder of expecting your audience to adapt to your messaging. Instead, you adapt your words to the occasion.
That's why cookie-cutter solutions from third-party social media scheduling tools are not practical to use when communicating with your audience.
Conclusion
If you want to increase the influence of your brand on social media, your business needs to be present on LinkedIn.
It's the go-to social media network that is designed to help businesses build better and stronger professional relationships.
And the best way to use Linkedin for your business growth is to be active. Regularly post unique, useful social updates that create engagement and drive traffic to your website. Populizr can help you immensely in building engaging social campaigns in just a matter of minutes.
One thing that you shouldn't do though, relies on third-party social tools to engage your audience. You want high relevancy, and the only way to do it is to do commenting natively, from within Linkedin.
And Populizr helps you not get too detached from your audience by ensuring that you do open up your Linkedin regularly and engage with your audience there.
If you want to build a lasting LinkedIn community with a cost-effective social media scheduling tool, don't miss out on Populizr.