We live in a fast-paced world. And when it comes to social media, the requirements are even higher. It's like watching 24 on steroids!
This makes Social Media Automation Platforms a must for every business, marketer and social media manager. These great tools increase your productivity because of better time management.
Most general pros and cons of using social media automation platforms or tools,  we listed at a glance in our previous article.  Our focus here is to list some of the most interesting platforms, which can serve you every day for better distribution of your content on the social media networks.  
Today this social media automation platform is used by over 10 million professionals from different industries. If the number of your social media clients enlarges, this is the right content management platform for you. The pricing depends on the plan, which can be Professional, Team, Business, and Enterprise.  They Additionally offer 30 Day Trial on each plan. The platform is synchronized with over 35 popular social networks. Furthermore, HootSuite Academy offers each new user many  FREE courses such as  The Fundamentals of Using HootSuite for beginners and Advanced Uses of HootSuite for Intermediate users.
If you want to dive in more into digital marketing and test your knowledge, you can take their FREE Social Marketing Training – For Social Media Marketers and Digital Specialists. On this training you can learn about:
If you would like to get certified, you should take their Social Marketing Certification which costs 199$.
Read more details about the PROS, CONS, and FEATURES of HootSuite HERE.
2. Populizr – Social SEO Automation Platform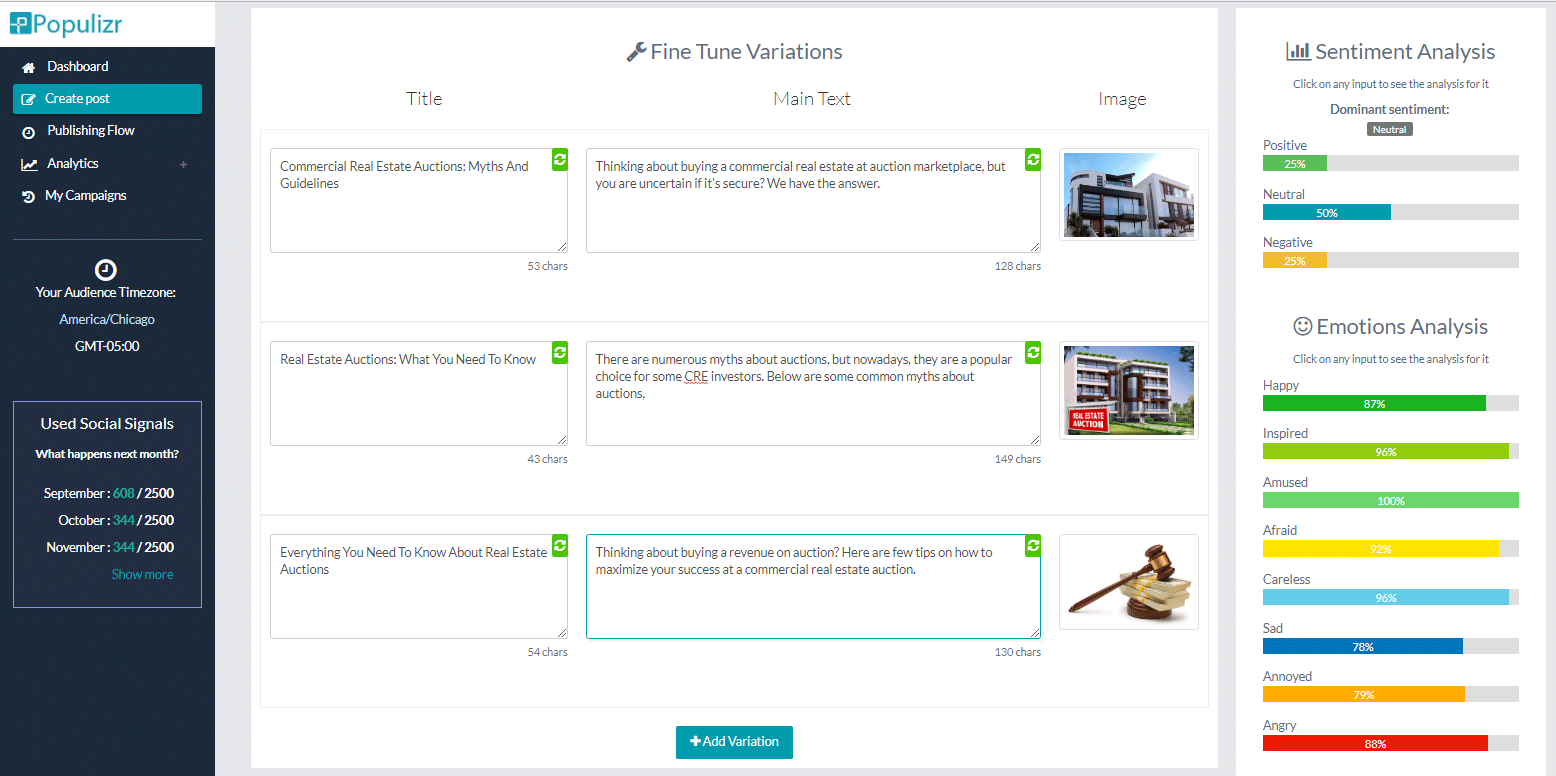 Populizr not will only schedule social media campaigns from your blog posts, but it will also generate unique social media posts from your blog post. With Populizr you will get unique content with 9-25 variations from a single blog. This way you will never end up like a boring spammer to your fans/followers. Populizr is incredibly easy for using and you'll love it.
What makes the Populizr one of the top social media automation platforms, is the feature for showing how your audience will react to your post before it is even posted. Meaning, Populizr will measure the sentiment and the emotions in your social post – which is really important for all social media experts, don't you think?
Populizr users can share and schedule content their social media profiles on:
Facebook: Pages, Groups, and Profiles
Google+: Pages and Profiles
LinkedIn: Company pages and profiles
Twitter: Profiles
Pinterest: Boards
The Populizr – Social Media Automation Platform offers different pricing plans, depending on whether you are an individual or an agency. You can try the platform for $1 for the first month or even request a free demo for a full overview of the Populizr's features.
If you want to collect more leads, this is the right social media management tool for you.  The platform is B2B focused, and tracks each lead you generate provides the analytics to understand which networks, profiles, and posts are most effective. You can Get a Demo before you start paying for the platform.  Same as HootSuite, Oktopost offers its community a great FREE Knowledge Base. If you want to gain even more knowledge, they offer Pro Services & Training including:
Basic Training – $250 – A  service includes a one-hour call with an Oktopost Customer Success Manager.
Bootcamp – $650 – An extensive onboarding session that will fully explain the inner workings of Oktopost.
Oktopost is the platform to gain more leads for your business.
This social media management platform is used by more than 3+ million people. Its users can share and schedule content on Twitter (Profiles), Facebook (Profiles, pages, and groups),.
LinkedIn (Profiles and pages), Google+ (Pages), Pinterest (Multiple boards), Instagram (Profiles).
The pricing here depends if you are an individual, a business user or a nonprofit organization. Furthermore, they offer  "The Awesome Plan" – which is a FREE 7 – day Trial of the platform for every interested user, and for every package in their pricing list.
Similar to Canva, Buffer offers Image Pablo Creator, so you do not have to care if you do not have the skills to use Adobe Photoshop and Adobe Illustrator to create post images like a pro.  By using this feature, you will increase your social media engagement with your community.
Read more details about the PROS, CONS, and FEATURES of Buffer HERE.
This is great social media management platform, with nice user interface and great Risk-Free 30 Day Trial of all the packages. The pricing varies and is differentiated among  Startup, Business, Corporate or Premium monthly fee. Their platform is easy for use, and they offer lots of videos on their Youtube channel. The BLOG of Sendible is a great FREE source including:
Supported sites are social media networks such as Facebook, Twitter, Linkedin, Google +,
Pinterest, Instagram, Tumblr & more …
Read more details about the PROS, CONS, and FEATURES of Sendible HERE.
This is a social media platform where you can post your content to 32+ social networks at once. The platform is suitable for bloggers, social media marketers, affiliate marketers, or SEO specialists The Pricing Plans start from 99 $ per month, named as Starter, Pro, and Enterprise.
One of the best features is the "Syndwire Content Spinner." SyndWire users can easily check duplicate content on social media. However, it's only addressing it, not solving the problem of automated content rewriting.
Their Knowledge base covers all the FAQ's of every SyndWire, plus they offer Live Support Online.
Read more details about the PROS, CONS, and FEATURES of SyndWire HERE.
This is a Social Media Automation Tools that supports 50 leading Social Media Networks, at the same time including Facebook, Twitter, LinkedIn and Google+ Pages.
OnlyWire Enterprise is great for businesses that manage social media campaigns for multiple clients. The services are divided into three main modules: Automation, Monitoring, and Analytics. Furthermore, Onlywire is best known for their OnlyWire WordPress plugin for social sharing.
You can try OnlyWhire Enterprise for FREE and then decide if you want to use it for the execution of your social media tasks for your clients.
Read more details about the PROS, CONS, and FEATURES of OnlyWire HERE.
As a social media automation platform, SproutSocial is approachable for businesses of all sizes such as small businesses, niche agencies, and big enterprises. Their pricing is also flexible and starts from 59$ per one user / per month.  If you are an agency or enterprise, you can request a demo for more information before they do the final decision.
So far, the platform is integrated with Facebook, Twitter, Instagram, Linkedin, and Google+. Publishing, conversation and advanced reporting are Sprout Social's key features.
Read more details about the PROS, CONS, and FEATURES of SproutSocial HERE.
If you want to share your content smarter, then this social media automation tool is definitely for you. If you have a blog with lots of content, then Edgar will give you interesting ideas how to share the same content by still offering "fresh from the oven" approach to your community.
The platform stores the updates in a library. When every other update in that category has been posted, Edgar will post the update once again, so it can be seen by a lovely new audience while you carry on worry-free. So, they practically recycle the post, offering new creative headlines for the same post. Edgar can share updates through Twitter, Facebook (profiles, pages, and groups), and LinkedIn (profiles and company pages).
If you want to get tips, guides, news, and more for the social media world, then you must subscribe to their blog.
Summary Of Social Media Automation Platforms
Social Media Automation became a must if you want to work efficiently through your working hours. The wider of your presence on the brands and businesses you work on a daily basis on Social Media, the higher the need for social media automation tool. If you are a marketing specialist, a small agency team or bigger enterprise, still revising what would be the best solution for you, then the best way would be to analyze your business and communication plan. Then, create a simple list that will serve you as a benchmark. List the social networks where you already have a presence with the brands you manage, and write down your KPI's per each social media network per each brand. Then calculate your budget, and analyze a bit the pricing of the packages each social media automation platform offers. At the end of the day, you can have a free trial period on each of them, so use that feature wisely and then make the final decision, by switching to the platform that best serves to your goals.