The Populizr plugin comes free with the Populizr platform. This plugin helps you streamline the process of pulling key data from your website so that creating the social updates would go smoothly. With proper use of the plugin, you can easily schedule a lot of social media campaigns in under a minute, helping you to save 80% of your time.
Login to your Populizr Dashboard.
From the right top corner go to your Profile and click on Profile Settings.
Click on the green Download Plugin button.

Log into your WordPress Dashboard, and go to Plugins -> Add New.
Click on Upload Plugin -> Choose the download zip file of the plugin -> click on Install Now.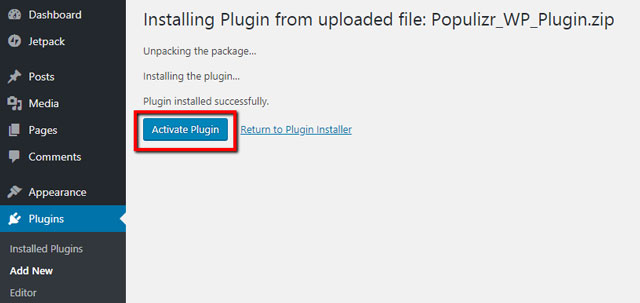 From the Populizr RSS Generator menu, you have an option to select from which from which post type the plugin need to get the feed.
The second option is the number of posts that need to appear in the RSS feed (-1 is default number for all posts).
From here you can open your blog post and select the text excerpt that needs to be taken for your social media campaigns. The maximum number of text excerpts that Populizr platform can take from a blog post is 5.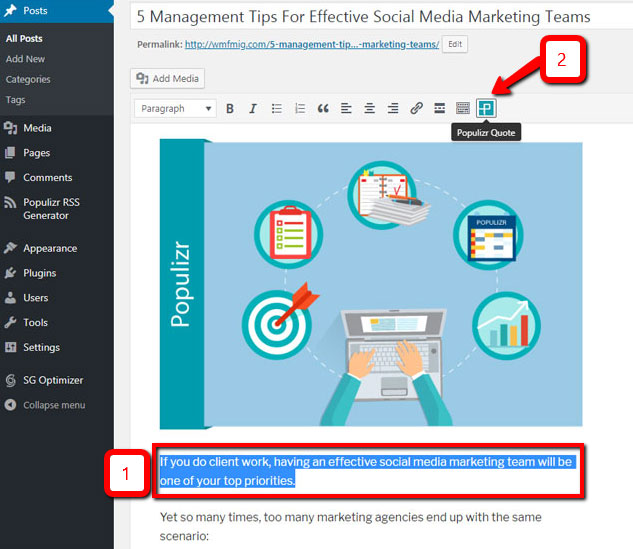 Then you can just copy the URL of your blog post and paste into the Populizr platform. And that's it.
Populizr will automatically scrape your selected text and use it to create the unique variations for your social media campaign.
By doing so, you will save up to 80% of your time for creating unique variations of your social profiles.
In the following video, you can see the Populizr plugin in action, and how it can help you to take your blog posts from the RSS feed.